Is Antivirus Enough to Ensure Your Cyber Safety?
Blog / Is Antivirus Enough to Ensure Your Cyber Safety?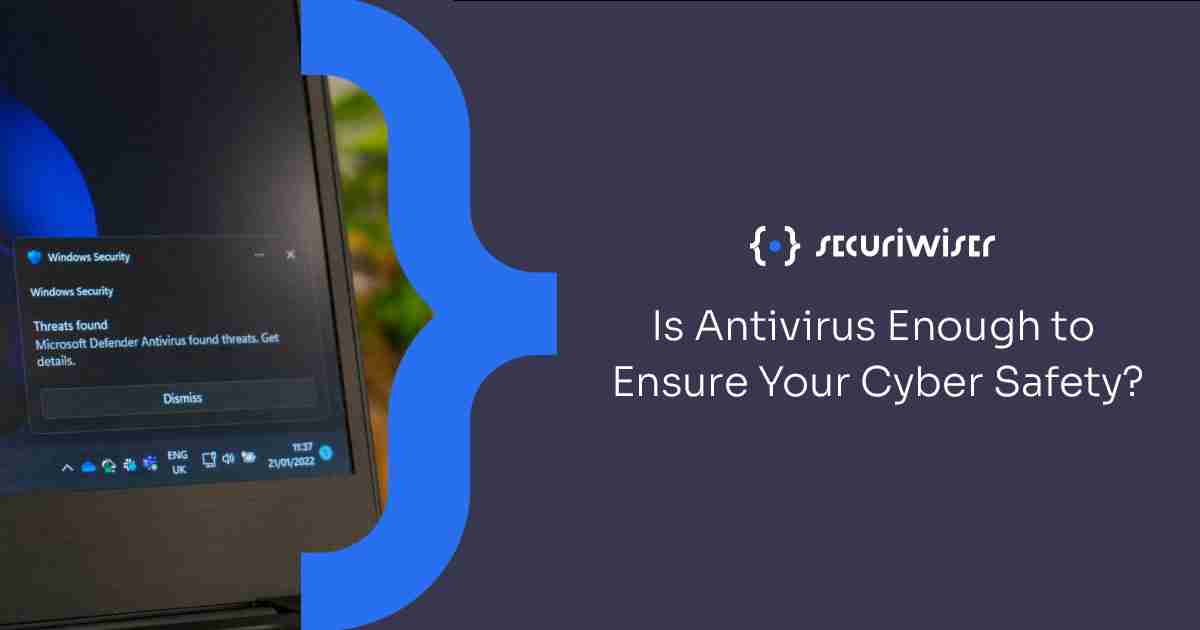 As is common knowledge, antivirus software (sometimes called antimalware) is a computer program used in the detection, prevention, and removal of malware from computing devices. Antivirus was originally developed to combat computer viruses, hence the name, but has since evolved to encompass a whole range of defences against other cyber threats. However, that doesn't mean to say that an antivirus program is a solution to all cyber problems. 
Why Antivirus isn't Enough 
A decade or so ago, your computer may have been the sole source of cyber risk and antivirus software could afford you adequate protection. However, nowadays cybercriminals have new ways to target you and traditional antivirus solutions are simply not enough. 
Newer, more advanced viruses and malicious software continue to emerge. Ransomware can lock you out of your own device, hackers can commandeer your computer to mine crypto currency (crypto jacking) 
Using your mobile devices outside of your home and using public Wi-Fi networks can leave you susceptible to attack. Cybercriminals could be hiding on unsecured public networks to monitor what you're doing online and steal your personal information 
There are now more internet-connected devices than ever before and cybercriminals have taken note, items you might not even consider a risk such as smartwatches, are susceptible to hacking 
You can be attacked without actually doing anything. In the past, you could stay safe by avoiding malicious websites, unfortunately, this approach is now history thanks to web-based malicious scripts and drive-by downloads. Seemingly harmless websites can now get into your systems simply by you visiting them  
What Can't Antivirus Software Protect Against? 
Antivirus programs alone aren't enough to protect against cyber threats, they only protect one cyber entry point and look for signatures of "known viruses". Cybercriminals use other methods that antivirus can't defend against such as targeted attacks like spear-phishing, wherein a hacker targets specific organisations or individuals by email or text. They attempt to convince them they are a trusted sender by doing research on them and making the message appear legitimate, and from there they attempt to obtain confidential information from the victim.  
Ransomware is another serious cybercrime that antivirus is unable to combat. It is extremely lucrative and appealing to hackers due to its hard to trace nature. Ransomware encrypts an organisation or individual's data, then demands a ransom to unlock it. This form of cyber attack is also growing exponentially and new double-extortion attacks have become more prominent as of late. Hackers will threaten to release stolen data online if their inflated demands are not met. 
Cyber security Tools to Work alongside Antivirus 
Invest in a VPN (Virtual Private Network) Individuals and businesses alike can benefit from the use of a VPN. A VPN will mask your online activities from third parties: 30% of VPN users use it when accessing the internet for work. VPNs are especially useful when using public networks because hackers can use the unsecure connection to steal the private data of anyone connecting to them 
Use a firewall to protect physical servers. A firewall protects hardware as well as software and works by blocking viruses from entering your network, while an antivirus works by targeting the software affected by a virus that has already gotten through. Firewalls and antivirus work well in tandem 
Encryption software will save your most sensitive information. If you use things such as online banking regularly it makes sense to have an encryption program in place. Encryption alters information by turning it into unreadable code, so if a hacker stole your data it would be useless to them unless they had the decryption key. It's always best to plan for the worst-case scenario 
Back up your data often. Whether you are an individual or a business you should either manually back up your data to an external hard drive or the cloud. That way if your system is ever compromised, your data is secured safely in an unaffected location 
What Can Securiwiser Do For You and Your Business? 
Securiwiser is a comprehensive scanning tool that can identify more than just the signature of known viruses. With twenty-four hour monitoring of your devices, network, and website, you can rest assured that the moment any trace of suspicious activity is found in your system you will be alerted immediately and a full report with the details of the scan will be sent to you. You will be told how to remedy the situation yourself or where to find help if you can't fix the problem alone.
How secure is
your business?
How secure is
your business?