5 Things to Consider When Choosing a Cloud Provider
Blog / 5 Things to Consider When Choosing a Cloud Provider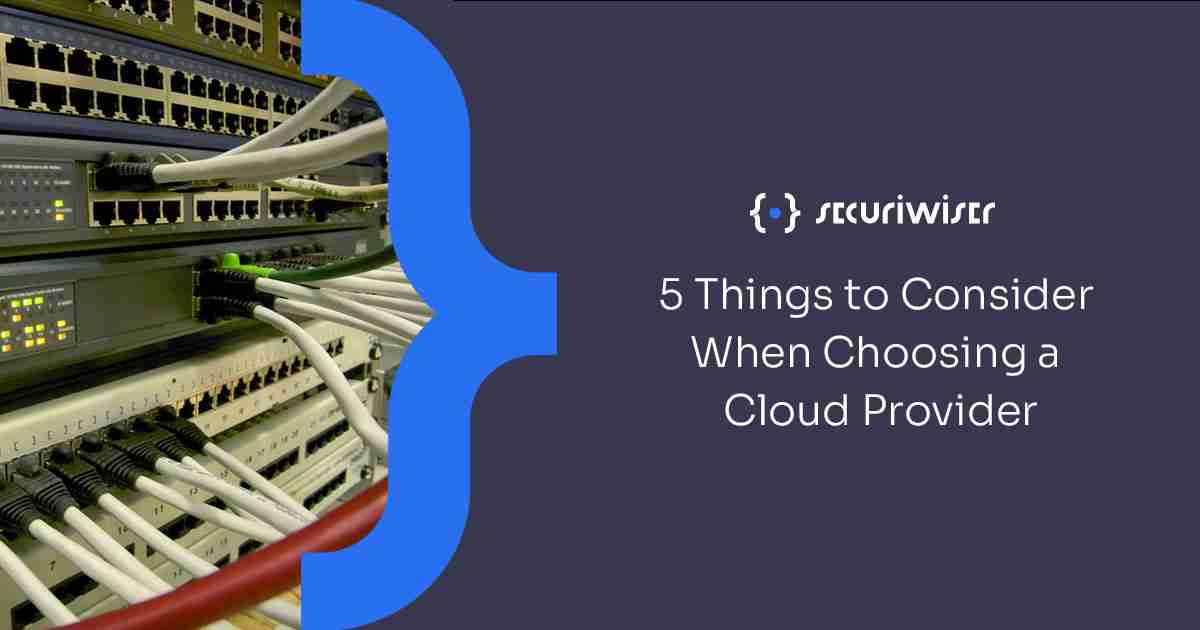 You've probably heard of the cloud and most likely have a grasp on the basics of what it is used for but let's go into depth and discuss what exactly cloud providers do. Cloud service providers are companies that manage private clouds and offer on-demand cloud computing components/cloud computing services.   
Using a cloud provider is an easy way to access computing services you would otherwise have to provide yourself such as infrastructure, software and platforms to deploy applications. 
There are several key points you need to consider when choosing a cloud service provider, let's take a look at some of the most important: 
1. How Secure is the Cloud Service? 
Security should always be a top priority where data and networking is concerned; cloud security should afford you the same level of protection for your data as network security. You should ask potential providers what server security measures they have in place in order to protect your data. Security measures should include firewalls, encryption, multi-factor authentication and virus detection. 
2. How is Regulatory Compliance Handled? 
Laws and regulations surrounding the storage and collection of data, such as GDPR (General Data Protection Regulation), can be difficult to get a grasp on sometimes. One of the benefits of using a cloud service provider is that security experts will take care of regulatory compliance for you.  Make sure that your provider is working to stay up-to-date on the latest rules and regulations that could affect your data. 
3. Service Levels 
Cloud Service Level Agreements are an important element to consider when choosing a provider. SLA defines how the hosting provider will compensate for any failure to serve up to the defined standards. Establishing a clear contractual legally enforceable relationship between customer and provider is vital. You should always pay attention to legal requirements for the security of data hosted in cloud services, particularly in light of GDPR regulations. You should be able to trust your cloud provider to do the right thing, and you need a legal agreement that will back you up if something goes wrong. 
4. Data Storage Location 
Storing data in the cloud isn't some magical, abstract concept. Your data is stored in an actual physical location; it's just transferred over the internet. When choosing a cloud service provider, make sure you know exactly where they plan on storing your company data. If a vendor stores your data in another country, that country's laws might affect who can access the information and how it can be controlled. You should also make it a priority to find out whether the storage location is at risk of natural disasters such as earthquakes and tornadoes. Make sure potential vendors have plans in place to protect and save your data should an emergency strike.  
5. Backup 
Every cloud service provider should offer data backup facility, however to what extent or how quick the process is should play a critical role in helping you choose a vendor. It would be pointless to pick a provider who doesn't at least backup your data every day. 
Most leading providers of cloud storage services offer backup for 45 days. They should also have the custom option to extend this duration upon request. You should also ask about the security of the backup process and how to restore it when needed, when choosing your provider. 
What Can Securiwiser do for your Organisation? 
Securiwiser will monitor your devices, systems and network continuously for twenty-four hours a day to ensure that your security posture is at the highest level. You will be given grades based on how well each aspect of your security is performing, so you will always know exactly what needs attention and what can wait. If any suspicious activity or vulnerabilities are found in your systems, you will be notified immediately and a full report detailing the problem will be sent to you.
How secure is
your business?
How secure is
your business?