3 Reasons Why You Should Avoid Using Pop-Ups
Blog / 3 Reasons Why You Should Avoid Using Pop-Ups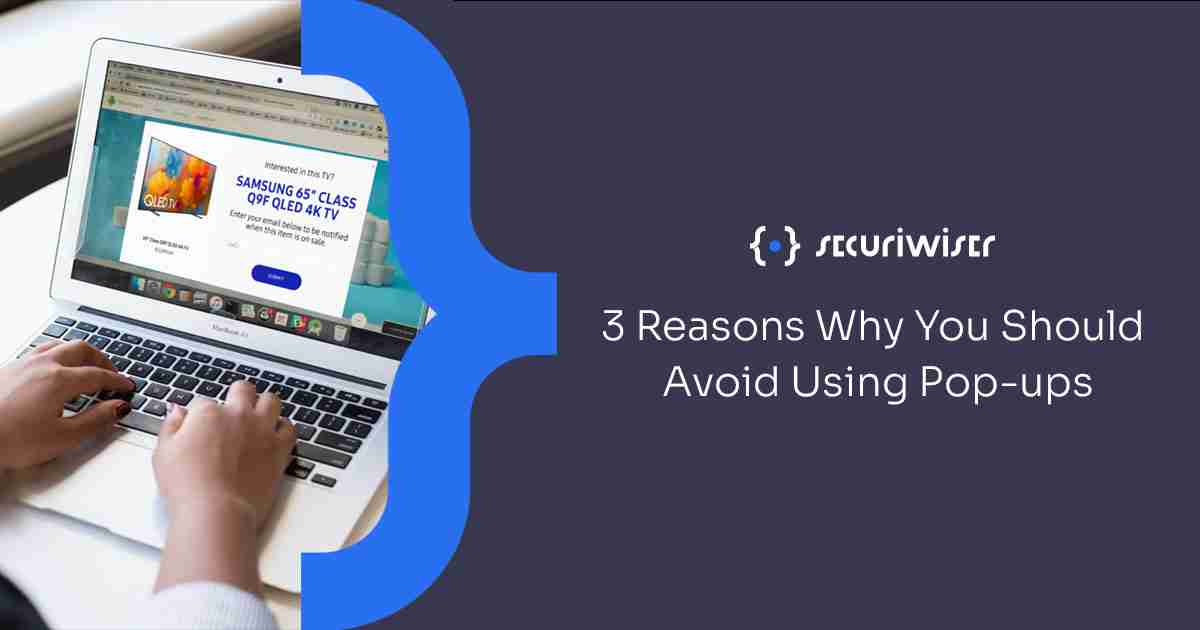 How did this once commonly used marketing tool become disliked and avoided by so many web users? And why should you, as a business leader avoid using pop-ups as part of your digital marketing strategy?   
Reduces user engagement  
Previously, pop-ups were commonly used as a marketing tool to gather email addresses from those who visited their site in an attempt to send promotional emails about their organisation. As this feature became increasingly used by marketers, web users became more and more irritated, leading them to avoid clicking sites that were known for using pop-ups.  
But why were users becoming increasingly annoyed? 
The user cannot engage with the content that they originally clicked on the link for, especially if the intrusion spans full screen. 
As pop-ups typically have a fast-loading time, the readers may have already begun to read your content before being interrupted and distracted. As a business leader, reader engagement with your content is key however the distraction may be off-putting for a lot of potential customers.  
If the user decides to join your site, then it is fine however, this only adds to the intrusion. As a business leader, it makes sense for users to have a positive experience with your site.   
For desktop users, the same pop-ups visible on a given site may not be overly excessive however, for people using their phones, this is the opposite. Pop-ups on mobile screens can cover the whole screen, which may annoy some users enough to leave.  
As a business leader, you should consider the following: 
Towards the end of 2021 mobile users made up 55.35% of the total web users and for desktop users, the number was 44.65%. Therefore, as a business leader, your site needs to be pleasing to mobile users also to attract and keep more viewers.  
Brand reputation. Users will avoid your site if it contains too many pop-ups due to the annoying nature of it, causing a loss of potential consumers.  
Loss of potential customers in some instances due interruption of user sessions (even if your pop-ups are successful sometimes).  
Bounce rate. As discussed previously, too many pop-ups will irritate the user and cause them to leave your site and avoid it for the future.  
Following an update held by Google's Algorithm in May, new rules have been laid out stating that your pop-ups can not encompass the large majority of your site, to the point where the primary content is covered and it becomes intrusive for the viewers.   
In addition to the intrusiveness of excess usage, pop-ups have become increasingly associated with spam activity and therefore has become commonly regarded with suspicion, further discouraging web users from interacting with your site, should your site contain a large number of pop-ups.  
Slows page speed 
If your site is embedded with a large number of pop-ups, chances are that your site will have a slower loading time, leading to an increase in bounce rate.  
You can see your website's loading speed using PageSpeed Insights, a tool based on Google's Web Vitals which will be implemented when the Google Algorithm is updated.  
As it can be hard to keep track of the numerous pages that make up your website, using the page speed monitoring service offered by StatusCake can help you track and manage your website without the need to continuously evaluate your site manually. By using this service, if a page is taking too long to load, you will be notified about it and given a chance to make improvements before Google penalises your site's ranking or your visitors leave. 
Security reasons  
Pop-ups can sometimes be hacked by malicious threat actors intending to gain a foothold into your business and your customer's devices by injecting a malicious code in an attempt to redirect visitors to malware-dropping sites. The aim of this is typically to steal sensitive data to sell or to demand a ransom. If a threat actor manages to successfully infiltrate your website's pop-ups, your site will become a malware hive, tarnishing your brand's reputation and your IP's reputation.  
If you decide to use pop ups…. 
As outlined, pop-ups will cost you potential customers, increase your bounce rate and cause web users to regard your site with suspicion. Even if it is successful in gaining a few clicks, is it worth it if a customer simply purchases something and never visits your site again?   
If you still wish to use pop-ups, consider: 
Disabling them for mobile users 
Offering something that is actually worth while  
Keeping it relevant  
Limiting them to certain pages   
The timing so the user has a chance to read your content  
Making them easy to close  
About Securiwiser 
We aim to provide our clients advice concerning implementation of various specific cyber security methods, some of which will be more suitable than others depending on the business type to help ensure the cyber health of our client's system.  
We advise our clients (whether they are individual users or business owners) regarding various cyber threats that their businesses and operating systems may face. This includes increasing trends of certain threats and prevention methods that are cost effective and time saving.   
Furthermore, business owners, employees and general users may forget to conduct regular scans to monitor the health of their operating system, which criminals can take advantage of to gain unauthorised access by exploiting unrecognised, underlying vulnerabilities.  
Securiwiser can conduct regular scans for your system and provide a detailed cybersecurity risk assessment and a cybersecurity vulnerability assessment. We can further explain detected vulnerabilities and risks in detail to our clients and provide the best course of action that will save your business time and money.
How secure is
your business?
How secure is
your business?